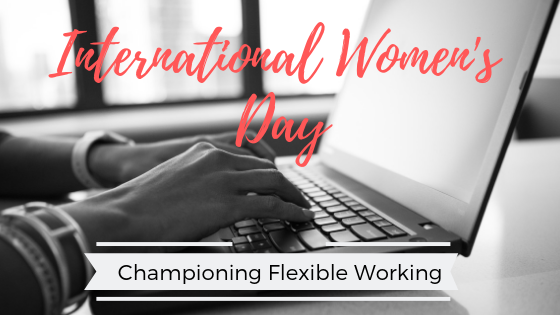 International Women's Day – Championing flexible working for women
It's no great secret that the landscape of the typical working week is shifting, with emphasis moving from 'hours in the office' to 'measured output' and ultimately contribution of skills and knowledge.
This shift is enabling more women to reignite their careers after having families, fitting their professional commitments around raising their children.
The move also acknowledges the rich tapestry of skills women bring to their organisations, regardless of whether they have a family or not.  Pursuing a career no longer needs to sit on the back burner in favour of raising children, and more and more women are finding that they can, in fact, 'have it all'.
The benefits work for businesses too, as flexible working not only makes for a more motivated and content workforce, but also unlocks opportunities for professional women who would otherwise be unable to work in the same capacity.
The challenge, however, is to convince those employers more reluctant to allow valued employees to have flexi-time and home-working opportunities. Provided there is trust and suitable incentives, both parties benefit.
Christine Joyce, MD at CJAM has always championed ways of empowering women in the workplace, with flexible working a priority for both her business and her employees, the majority of which are women.
"Many of my staff, several of whom are in senior positions, have other commitments outside of work which I am happy to accommodate. Preventing your staff from enjoying having families through a regimented and inflexible approach to the working week, is ultimately counterproductive."
She continues: "Being able to attend those moments – the assemblies, sports days, doctors' appointments – without eating into precious annual leave is a gesture on management's part to acknowledge the commitment and skills provided across the rest of the week."
Christine, who is a three-times Business Woman of the Year Finalist at the prestigious Essex Business Awards, has bucked the trend, launching her successful Association Management business and TyreSafe organisation from the ground up, in a fiercely male-dominated arena.
Amidst rising concerns about a lack of females starting businesses and reaching senior positions, she continues to advocate flexible and optimum working conditions that enable her female staff to progress and thrive. A recent government study revealed that fewer than one in five UK SMEs are led by women, further strengthening the case for flexible working hours and a more accommodating work environment to harbour female talent.
Lucy French, Marketing Director says: "Our team is motivated largely by the thrill and opportunity to be able to apply their professional skills without sacrificing precious time with their families. I have four kids myself, but am in no way ready to ditch my passion for branding and advertising that I share with my young, single and child-free colleagues still working in big London agencies."
In favour of a better work-life balance, many men and women alike continue in their pursuit of more flexible working arrangements, and a 2017 study by EY and Timewise – Flexible Working: A Talent Imperative, found 87 per cent of full-time UK employees either work flexibly or would benefit from doing so.
This trend is set to continue, and a report by Morgan Stanley found that companies who are inflexible with staff working hours repeatedly underperformed in the MSCI World index year on year, with the gap further increasing annually.
Those businesses reluctant to embrace and accommodate flexible working hours run the risk of a demotivated workforce and untapped talent resources in a generation of workers seeking a healthier work/life balance. Furthermore, a flexible and forward thinking approach to employment hours may help to resolve the imbalance of men and women in senior positions as we look towards a more long term equal footing.