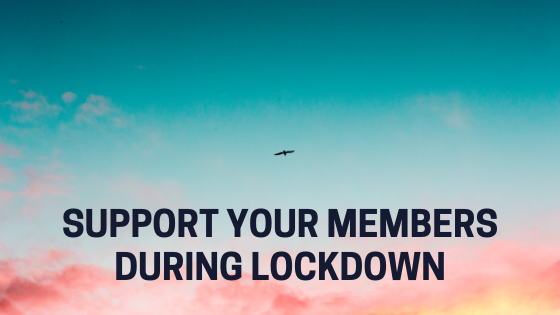 Supporting your members during lockdown
Getting the best out of lockdown for your association and your members
The UK is on lockdown. Boris Johnson announced at 8.30pm on March 23 that the government will now be enforcing stricter instructions about essential travel and staying at home in a bid to slow down and contain the spread of COVID-19. Which means all business premises aside from essential services will be closed with immediate effect. With uncertainty and growing concern about the lasting impact of these life-saving measures, it has never been more important for associations and membership organisations to communicate with their members about what support can be offered during these challenging weeks.
Keep members updated
Direct your members to resources published by the government that could offer valuable financial and logistical support to help them ride the storm. The advice and help is continually developing, and you can find many of the most up to date guidelines and resources here 
Where possible, place updates on your association website and circulate advice amongst your team and your members, to ensure all parties have the most up to date advice.
Work with it
Take this opportunity to establish robust communication lines via digital platforms, using online surveys, social media groups and email communication to remind your members of the additional support available to them.
Take feedback
Listen to your members about their pain points and worries. Whilst there will be many businesses struggling without access to their premises and face to face transactions, try and consider how your association could help facilitate online business, help members bolster and continue their social media and digital communications and prepare with positivity and hope for when restrictions are relaxed.
Toolkits and digital resources
Consider how your association could prepare digital aids to help prop up your industry during changes to or ceasing of trading. If your industry is consumer focused and relies on shop front trading, why not create a hashtag to remind your members' followers about how they will be available, on hand and provide an incredible service when business resumes. Or how your members could retain traction and engagement by offering remote suggestions and assistance in the absence of their regular products.
Brand awareness
With restrictions in place, why not make the best of the situation and see it as an opportunity to create innovative and new resources for members from your teams' home offices. There is a wealth of user friendly, basic software available to download that could equip your association with the ability to create animated videos, podcasts, emails and graphics. Take this time as a membership organisation to assess and adjust your brand marketing. Digital brand awareness campaigns can still run and in fact may be more successful with an increase in people consuming content on their phones and tablets.
Public relations
It is imperative that at the forefront of your assocation's planning is to convey the message of support towards the current lockdown. Whilst businesses may be at risk and industries compromised, the ultimate goal is to maximise the safety and wellbeing of the vulnerable. Therefore consider how you can incorporate this support into your messaging. This will also provide your members with reminders and reassurance that the nation are working together to overcome an incredibly difficult time. It will solidify your stance as an upstanding organisation and spread the important message about staying home, but not being 'alone'.
And breathe
Yes, these are concerning times. Of course the affects on businesses and your members will be notable and potentially long lasting. As a membership organisation it is an opportunity to connect with members and solidify relationships to help them find a way to the other side of this crisis. Retain a focus on positive messaging, and help your members do the same. This will help to sustain morale across your membership base, industry and potentially further.
If you are looking for more advice or inspiration about how you can help your members and bolster your industry during lockdown, speak to a member of our team on hello@cjam.co.uk
We are operating a 'business as usual' function remotely, with all teams convening throughout the day to ensure our clients continue to receive the most seamless service during this period.  Our communications department can help you identify opportunities for developing your online presence and can offer support and advice about upskilling your team.