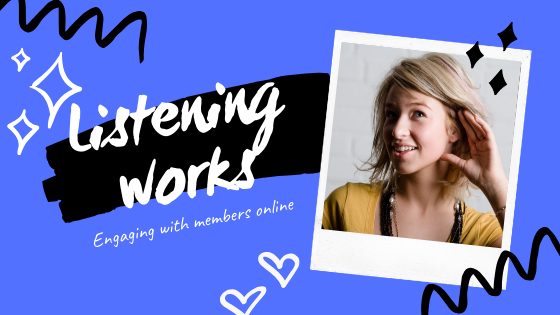 A guide to increasing member engagement and learning how to listen and respond.
One challenge faced by many membership organisations is to find balance and space amidst outbound content calendars, social media scheduling and a email communications to invite response and act upon engagement.
One of the richest tools available to membership organisations is in fact its members. So how can we listen better and provoke the right level of engagement to create improved communication and positive change?
Social listening
It's important to dedicate time and resource to observing and monitoring respondents and active users on social media channels. Amidst these respondents, there will almost certainly be a handful of members or followers who interact more than others with your content.  Engage with these individuals to discover more about their motivators and background, they could provide vital insight into untapped opportunities within the market or simply develop into guest contributors, brand ambassadors and if not already, members.
There are many tools available to enable organisations to monitor social media streams in order to see who, when, where and why their organisation is being talked about. Many, such as the Hootsuite dashboard enable you to you monitor conversations relevant to your association and your industry. These provide insight into what people are saying according to keyword, hashtag and location.
Surveys
Instead of relying on assumption and analytics to determine your followers' needs and wishes, why not reach out to them to actively involve them in crafting your content and communications schedule? Distributing a survey online to your members and followers asking them to outline their social media usage including preferred channels and content will give your marketing and content team a strong foundation to better cater for the needs of your members. Surveys also convey to your members that their responses hold value, particularly if you react and respond in accordance with their wishes. Identifying discrepancies between what your members want to consume and your followers will also support converting followers to members by adjusting your content to cater for the needs of both.
Invitation for content
It's no secret that people engage strongly with human content and real life examples. Inviting members to supply content about their achievements, research or relevant industry insight will not only improve your membership offering by promoting that member on your channels, but also encourage others to consider how they too could become involved in your content calendar.
Providing regular guest 'takeovers' on your channels also unlocks opportunity to inject a different personality, style of messaging and opinion on subjects close to the heart of your association and industry.
Groups
Social channels provide so much more than a sounding box. Key channels including Facebook, LinkedIn and Instagram provide opportunity to set up closed groups that can be developed into online communities.Why nor create a group to reward your members and make them feel special and listened to. Monitoring the group and contributing with valuable insight and exclusive content will encourage conversation that ultimately spills out onto your feed. Groups are also a great way to promote events online and offline.  Group members will share images, comment and feedback within the group space which will help you improve and build on your offering for the next one.  Closely monitoring groups also enables you to respond to members' needs quickly and personally.
In short – be ready to respond, avoid making assumptions about your followers and if in doubt, ask.
Including your members and followers in your content strategy will readdress the balance between planning outbound content and engaging with your recipients, which is vital for growth and visibility on and offline.