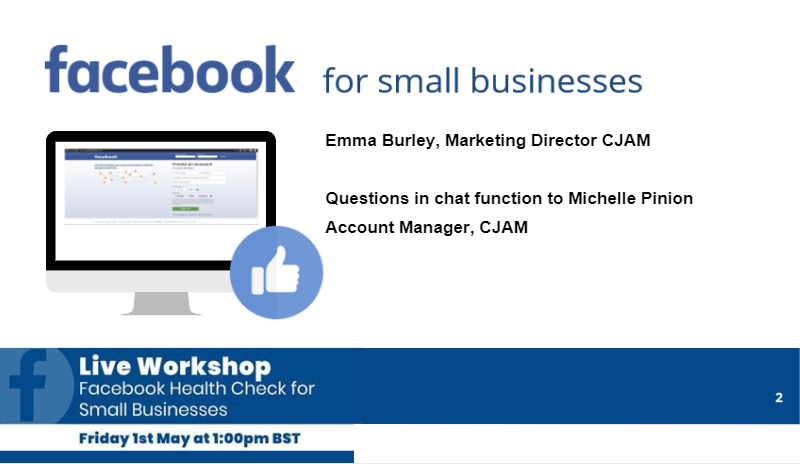 CJAM hosts bespoke webinar to upskill client's members
On Friday, CJAM hosted a webinar tailored for the exacting needs of one of their clients, to help them add training aand value during the COVID-19 crisis. The webinar "Facebook for Small Businesses' provided insight and evidence-based advice about how to get the most from your Facebook profile – covering topics ranging from social proof and use of video through to advertising and the Facebook pixel.
The webinar was created and hosted by Emma Burley, Marketing Director, in response to the growing need for additional training and resources for their clients' members during a period of trading hiatus and unrest.
Emma Burley said "the challenge was to provide content that catered for a wide variety of knowledge and skill sets. Some members already had strong profile pages with core marketing principles and best practice already implemented, while others were only starting out."
Topics that arose in the question and answer section centered on how to create varied and engaging content and the purpose and importance(or not) of the hashtag on Facebook.
The webinar also provided bespoke advice about the advertising targeting options available that would be most useful to the client's members, with context and industry focus and real-life scenarios applied.
Paula Ardron-Gemmell, NABAS committee member and founder of Pink Tree Parties said "Facebook and social media as a whole, are an ever changing minefield which most of us don't use to their true potential. Emma guided us through Facebook analytics, marketing and post content effortlessly, in a really easy to follow format. A really useful hour crammed full of information to help us all get the most from this business platform. "