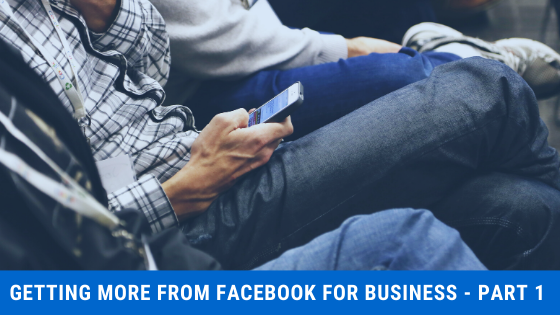 Getting more from Facebook for Business – Part One
Optimising your page, context and social proof.
So, we've just been told to expect social distancing measures to remain in place for several weeks, and many businesses will be feeling the affects of this prolonged adjusted living. Which is why now is the right time to help your members to devote resources and attention to their Facebook business profile, particularly for small businesses using their page as an additional shopfront. Your association or membership organisation may also wish to spend additional time updating your Facebook profile in accordance with the 'new normal'.
This guide is intended to help small businesses improve their presence on Facebook during these challenging times and is part of a series to provide assistance and support for businesses looking to get more from their Facebook pages.
Context
Content will need to also adjust in line with the current climate, which calls for context, so your members may want to ask the following questions when crafting their next post:
1. How does your offering improve or enhance during these difficult times?
2. What logistics are involved with preparing/delivering?
3. If you cannot provide a product/service – how can you retain awareness of your product/business ready for when businesses can reopen as before?
Marketers are having to think very differently about how they communicate- from appropriateness of message through to style of image.
The greatest emphasis has to be on safety and compliance with current social distancing measures- but this doesn't mean that you shouldn't or can't continue to raise awareness of your brand and offering. In fact, quite the opposite. Businesses need to work harder than ever to stay present online with the right content in the right context at the right time.
Optimise your profile page
First of all, there is a correlation between a well-developed social presence and your search rankings and in the end, a Facebook Business Page becomes a "second home page" for your online business. 
1. Customize your vanity URL
Do not settle for the generic URL generated by Facebook – but remember – once you've set a vanity URL, changing it will mean that any links to your Page will no longer work.
On Facebook, you can easily personalize your address and unify it with your brand name. Make it unique and easy to remember. If you match your Facebook vanity URL with the page's title you are going to strengthen your brand recognition. Moreover, personalization will hugely improve the findability of your page both in Facebook search and in search engines.
2. Update your profile picture and cover image
These may seem like basic steps, but your profile picture makes you instantly identifiable and your cover image is perfect for continuity of context. Your members may wish to include a reference to the current COVID-19 situation in their image, or a message of support. When business resumes this is also the perfect location to reinforce any new promotions, discounts or announcements,
3. Pay special attention to the "About us" section
Make sure you tell your story.  Share why your business is different, how you got started, and what you offer. The links in your About Page are clickable so add links to sections on your website where people can get more information.
Providing as much information for your potential customers as possible on your Facebook page will help them to quickly determine whether your offering is suitable and how to contact you. It also helps your business to rank in search engines by providing as many keywords surrounding your business offering, products, services and location 
Here are some good ideas for things to consider adding to any Facebook About Page:
Your Company Story.  Tell how you got started and what makes you different from your competition.  This may be the first time someone is finding your business online so tell them what they need to know to want to work with you or buy your product.
What you do or what you sell.   Add links directly to your products or services on your website.
Contact information.  You should have some way that is best for potential customers to get in touch with you.  Phone? Email? Facebook Messenger?  Let people know how to contact you.
Links to other social profiles.  Why not tell people where else they can find you?  Yes, maybe Facebook is your primary social site but if you are active in other places, add those links.
Social Media Policy.  Let your community know what the rules are for posting on your Facebook Page or commenting on your posts. That way if there is profanity, hate speech, or something against your terms, then you can easily delete it.
The Importance of Social Proof
Now is the perfect opportunity to reach out to your customer base to leverage good feedback and reviews to attract new customers.
-Encourage new, good feedback
-Make use and extend the reach of existing good reviews
In an incredibly busy digital space, social proof and human elements are more important than ever. Plus it's great content for further posting to add credibility about your services and products. It builds trust in your business and provides authentic feedback to potential customers about your products and services.
88% of people read reviews to determine the quality of a local business. (Source: Brightlocal.com)
72% of consumers say positive reviews make them trust a local business. (Source: Moresocialsuccesspartners.com)
88% of consumers trust online reviews as much as personal recommendations (Source: Mdgadvertising.com)
Use this time to get in touch with customers who have left good reviews and ask for their permission to either create a nice case study feature about how your business interacted with them, or to create a visual post about their feedback.
Read more about social proof and membership here
If you are a service-based/retail business, it is imperative that your reviews tabs are turned on and that you encourage customers (online or in store) to leave reviews on your page.