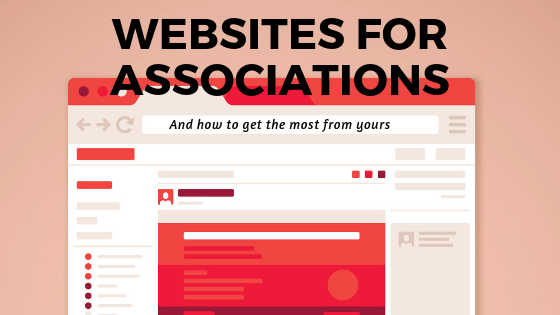 Websites for Associations
And How to Get the Best From Yours
Every association will know and understand the importance of their website as both a resource for current members and a shop window for attracting new ones. Therefore, it is imperative that the user journey for new, returning and frequent visitors is as smooth as it is informative.  Whilst web developers, copywriters and designers alike are faced with this unique requirement, there are several elements and principals that can be applied to optimise and ensure success.
Brand Consistency
Interacting with visitors through a consistent brand voice and aesthetic is a major step towards letting them get to know you as an association.
When they know you, they will identify with you and your purpose, and when visitors feel like they know you and can trust you, they will be more likely to take up a membership.  The same can be said for your existing members. Brand consistency that stems from your website will enhance and improve their experience as a member of your association, by providing continual clarity across your resources.
Member-Only Content
The only thing better than great content is great content that not everyone has access to. Injecting an air of exclusivity into your members' only section will not only enable your current members to be at the top of their game, but also entice prospective members to 'unlock' the same resources. These could include: news, training materials, community forums, software, tools, legal documents, marketing collateral and assistance.
'Teaser' snippets
Provide teaser information or summaries on your public/external pages with links to member-only content providing the full story. This works to promote your offering in two ways:
Search engines will rank your site on relevant content
Prospective members will be enticed by giving them enough insight into the value of accessing the members' only area.
Tracking Member vs. Non-Member User Behaviour
Tracking and reporting on user behaviour with tools like Google Analytics can give you untold insight into how members and non-members interact with your website. This important information will enable you to tailor your content and your user journeys to best cater for those on the 'external' pages and those who have logged in. Gaining the best understanding of your visitors will enable you to optimise your website to deliver the right content and messaging for the relevant recipients.
Your navigation bar
Placing your member-only content on sections within your main site navigation bar is a great way to give them an understanding of the extent of resources available. Supplying an overarching summary of the type of information members can expect to see by logging in on each sub-page will encourage non-members to explore the site and gain an understanding of the depth and scope of information available.
Strong calls to action
Improve and optimise the user journey wherever possible by providing clear instructions and calls to action to help your new visitors and returning members find the information they need. This means two or three calls to action pushing non-members to sign up, current members to sign in and all members to renew their membership.  Once these have been selected, the next step is also crucial:
Simple sign ups
Don't miss opportunities to encourage membership renewal, signing up and logging in. Once you have presented your offering, give your potential members a fast and easy route to conversion in as few steps as possible. Keep your enquiry and joining form as short and simple as possible, and once the form has been completed ensure you provide them with clear instructions about what happens next. This small but important step will start your partnership with them as a new member in the most clear and helpful way.
Membership websites are at once a value exchange and a promotional platform, and striking a good balance between catering for your existing members and attracting new ones is important. We've helped lots of associations build high performance, responsive and reliable websites that have increased their membership retention and provided exceptional insight into their users' behaviour. Talk to us today about our bespoke website packages perfect for associations.