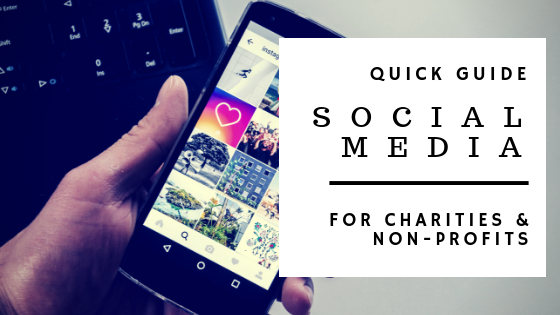 Social Media for Charities and Non-Profits
Social media strategy is integral to digital communications for most organisations, and charities/non-profits are no exception. The challenges faced by the sector are to approach their communications objectives across channels with consistency, often sensitivity and with different goals and outcomes from those of private sector and commercial businesses.
With that in mind, there are several core principals worth addressing and reviewing when using social media as a core channel in a charity and non-profit communications strategy.
Define your objectives
As with any arm to a non-profit organisation, goals and objectives are paramount. Social media is no exception. Before planning and scheduling your posts you need to identify the channels you will using and how your efforts will contribute to your overall communications strategy. Does it:
Increase engagement and awareness?
Reach out to stakeholders and investors?
Provide information and instruction?
Directly raise funds for your cause?
Prioritise your channels
If you are a smaller non-profit, or if your resources are limited, it can be daunting to think about managing strategies for the multiple mainstream and specific social media platforms available. So consider your target audience, and your objectives, and prioritise which channels you should be directing your efforts and resources into for the best outreach. It is always better to execute a social media strategy really well on one or two core channels than to spread your resources too thinly and deliver inconsistency across six or seven.
Type and frequency of posting
There's no hard and fast rule about frequency and type of posting, but we know that on social media, variety and consistency are key. So be sure that you do not over commit yourself in the beginning and are able to maintain a realistic and achievable schedule.
As a minimum you should look to post at least once a day on each channel that you select. If you can post more, then all the better, provided the content is useful and fits in with your overall communications strategy.
The type of material you post will be of course determined by the nature of your charity, however you should look to only use direct promotion in one in five posts, leaving the other four to develop a strategy of information, useful content and reference to the wider world. You may wish to use your channels to communicate:
Upcoming events
Content about your work
Relevant news and stories within your sector
Insight into how your charity spends donations
Thanks for donations
 Keep personas agile
Again, as a marketer for a non-profit, you'll be no stranger to segmentation and audience profiles, but it is worth remembering the fluid and evolving nature of the social media user across channels. Relying heavily on researched and thoroughly defined audience personas in other streams of marketing can lead to consistent results, but in the case of social media, the user and their responses will change with the environment and the trends. When marketers become too fixated on precious and highly researched audience profiles, it can be hard to consider reaching out to other people who may engage better with your strategy, so constant reviewing and use of statistics and insights will enable you to generate an agile approach to your targeting.
Identify your tone
Creating a brand tone and guideline for your social media strategy will make for consistency of messaging in the event that other members of your team pick up monitoring and posting on each channel. This brand tone may differ across your channels slightly according to the purpose of the channel and its associated objective, and all should align with your overall communications strategy. You may choose to ask yourself whether you adopt humour, whether you remain professional, and identify use of colloquial language, hashtags and specific phrases. Most larger organisations will have an in-house design and editorial style guide, and your social media management should also command the same level of care and detail.  You may wish to consider:
Use of images/memes/captions
Consistent hashtags and handles
Frequency of posting
Length, style and sourcing of video content
Tone of voice and language
Test, test and test again
It's impossible to hit the nail on the head on your first attempt, and if your social media strategy is undergoing a facelift, then using split testing is a strong and tangible means of developing all the above criteria for a longer term approach. Social media split testing is possible in real time, allowing you to refine your content marketing and advertising strategies as you go and develop a strong and deep understanding of what works, saving your content team time and minimising wastage on your advertising budget. Some examples of the things you could test include:
Use of video versus image
Post text
Call to action
Use of emojis
Tone of voice
Tell a story
One of the benefits of being a charity or non-profit is that you are at liberty to use social media to tell a story about your efforts.  This will be your strongest and most effective way to convey the impact of your work and ultimately convert followers into volunteers or donations. Inviting response and encouraging engagement by using case studies and evidence of the benefits of your work will help you to resonate with those likely to convert, whilst raising awareness about your organisation in the wider community. By being on hand to interact via messaging, discussion and responses, you should aim to not only reach out to new followers but to build a strong community on that channel.
Set up alerts
Once you have sat down and brainstormed your upcoming social media plan, try and remember that building and growing a following can take time, effort and patience. Use trends and opportunities to tag influencers and raise your profile, and avoid simply scheduling on a Monday and reviewing on a Friday. The immediacy and real-time nature of a strong and dynamic social media strategy can enable you to place you charity or non-profit in the thick of a strong discussion at the perfect moment.