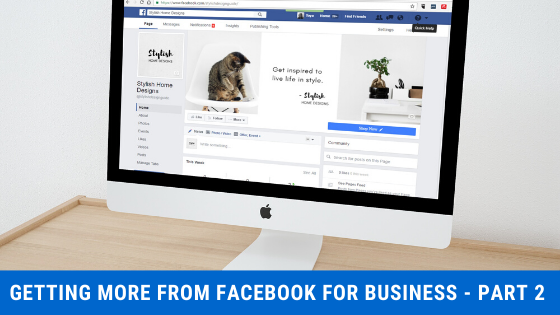 Getting more from Facebook for Business – Part Two
This is the second part in our series to help small businesses get more from their Facebook page. In this edition we explore some of the rising and established tools on offer and making use of Facebook insights. To set up your profile and understand the importance of context you can head to part one here
Facebook Insights
By using Facebook Insights you'll be able to determine the best time of day to post, the best day of the week to post and what type of content is most popular.
Click on the gear wheel on your Facebook Business Page and select 'View Insights'.
This is your main dashboard from where you can access key metrics:
⦁ Total number of likes (increasing/decreasing)
⦁ Number of friends of followers available (potential reach)
⦁ How many people are talking about your page
⦁ Total weekly reach
ACTION POINT – VISIT YOUR INSIGHTS PAGE TO IDENTIFY PATTERNS IN BEHAVIOUR/AUDIENCE DEMOGRAPHICS & TRENDS
ACTION POINT- WITHIN INSIGHTS IDENTIFY CONTENT/POSTS THAT HAVE BEEN MOST EFFECTIVE AND FRAME YOUR PLANNED CONTENT USING THESE
If your business is using Facebook, you need to be using Facebook analytics. It's packed full of insights and data that can help you get the most from the social network.
Understanding how and when people interact with the content you post on Facebook is also an important way to make sure the Facebook algorithm works for you, rather than against you.
Facebook Groups
Joining local groups enables targeted advertising and insight
Creating a group for your customers makes selected/loyal customers feel special and valued
Create Community Around Products
Enables sharing of experiences and application of products/training/creative ideas
Provides opportunity to add value and input from your business into the wider community
ACTION POINT – EXPLORE THE FACEBOOK GROUPS AVAILABLE IN YOUR AREA/INDUSTRY SECTOR
ACTION POINT- CREATE A FACEBOOK GROUP FOR YOUR CUSTOMERS
While participating in Facebook groups managed by others can help you promote your brand and business, you have to play by others' rules. Managing a dedicated Facebook group of your own lets you control the entire group experience and use your group for a specific purpose.
Before you begin to build your group on Facebook, you need to decide why and how you'll use the group. Here are four ways groups are commonly used by business owners.
Create Community Around Products: Many groups are created by businesses as a bonus when somebody buys their product or service. Creating communities around the products and services you sell makes members feel exclusive and provides an area where they can get additional help and training from you.
Establish Authority: Create a group for email subscribers to further inspire and educate them with helpful posts and prompts. Share helpful articles, tips, tricks, and even tutorials in the group to help improve members' lives and businesses.
Facebook Live
1. Provides Absolutely Unique Content
2. It's a Cost-Effective Video Strategy
3. Creates More Excitement Around Product Releases
4. Better Connect With Your Audience Directly
5. Increases Awareness Around Community Events
6. Drives More Traffic to Your Facebook Pages
ACTION POINT- EXPLORE HOW YOUR COMPETITORS/FAVOURITE BUSINESSES ARE APPLYING FACEBOOK LIVE AND CONSIDER A STRATEGY FOR YOUR PAGE
From text to images and video to live streaming, content has had a particular lifespan around engagement. Brands continue to look to engage audiences faster and more effectively. And now plenty of brands are starting to use Facebook Live for business.
But is this type of content truly for your business? The age of instant content makes Snapchat, Instagram Stories and Facebook Live big players for reaching core audiences. If you're hesitant–that's fine. BUT Facebook Live for business present a unique opportunity with its personal approach to content.
It doesn't matter who you are, brands always look to cost-effective strategies when it comes to social media marketing. And with the influx of video, it's hard to stay on budget and provide beautiful, attention-grabbing content to your followers.
However, Facebook Live relieves a bit of that stress. Most users enjoy the live-action and unedited approach to live videos. This means you don't need a fancy camera, set design or editing skills. Facebook Live is all about living in the moment.
Live videos are raw and often unedited, which means you as a viewer don't know what to expect. Brands can use that same emotion to evoke excitement around a new product or service release.
Another benefit to Facebook Live is it can be a true source of traffic for your Page. Live videos simply drive more engagement and if you promote your content well, it could keep users coming back.
In fact, Facebook Live videos drive more engagement than standard video content. Facebook recently said Live videos can drive 10 times more comments because of the real time connection between users.
Facebook Stories
Facebook Stories is a feature which allows users to share photos, videos, and animations that disappear after 24 hours. It is a tool that:
Provides authentic insight for your followers about your products and business
Provides a chronological and sequential opportunity to present information
Is great for building hype and excitement about a product/event (such as a webinar/Facebook Live or discount – in the current context)
Gives additional opportunity to 'beat the algorithm' by driving traffic to your page from the user's top section of the feed
Can include interactive elements/engagement tools such as polls and surveys and question and answer opportunities
There are plenty of tools available to businesses to improve their engagement metrics, monitor how their followers behave and provide interactive content to cater for their marketplace. Why not explore how some of these features could boost your presence and provide a stronger relationship with your followers that could ultimately drive conversions and growth during this challenging period.